Our Veterinarians
The Angeles Clinic For Animals team of skilled veterinarians welcomes you to our practice. Proudly serving the Port Angeles area. At Angeles Clinic For Animals, it is our daily privilege to provide quality vet care to your cherished pet, with compassion and competence. We hope to ensure a positive impact on our patients, pet owners and the local community.
​Dr. Christina Wagner
Dr. Christina Wagner was born and raised in Herald, CA, a small town outside of Sacramento. She earned a Bachelors Degree in Animal Science from the University of California, Davis, and then continued on to the UC Davis School of Veterinary Medicine for her D.V.M. She is currently pursuing further education and certification in Veterinary Acupuncture. Dr. Wagner and her husband, Rick, relocated to Port Angeles following graduation. In her free time she enjoys early morning runs, day hikes, mountain biking, and road cycling. Her four-legged family consists of four cats - Smokey, Logan, Vash, and Cleo, as well as two small dogs - Tycho, a 12 pound Manchester Terrier, and Charlie, a long-haired Chihuahua.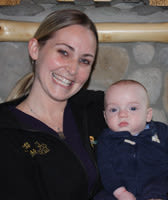 Dr. Andi Thomson
Dr. Andi Thomson was born and raised in Port Angeles and graduated from Port Angeles High School in 1996. Andi then completed a 2-year veterinary technician program at Pierce College and worked the next few years as a veterinary technician. Andi obtained her Bachelors of Science from Washington State University and went on to attend Veterinary School at Ross University, located in St Kitts, West Indies. After graduating in 2007, Andi returned home to Port Angeles and has been working at Angeles Clinic ever since. In her spare time, she enjoys spending time with her husband Eric and son Bruce, camping, hiking, fishing and generally enjoying the great PNW. Her four-legged family includes 2 dogs, a black lab named Loomis and fox terrier named Missy.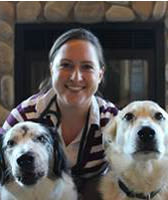 Dr. Andrea Goldy
Dr. Andrea Goldy joined our team in February 2015. She was born and raised in the Greater Seattle area. Dr. Goldy studied and earned her Bachelors Degree in Zoology, and went on to attend Veterinary School at WSU. She then practiced in Eastern Washington for two years after graduating. In her spare time, Dr. Goldy enjoys doing dog agility with her two pups Skyler and Kara and hiking the great outdoors! Her furry family includes her two dogs, her cat Halle, and two Guinea pigs Libby and Louisa. Dr. Andrea Goldy sees dogs, cats, and pocket pets.